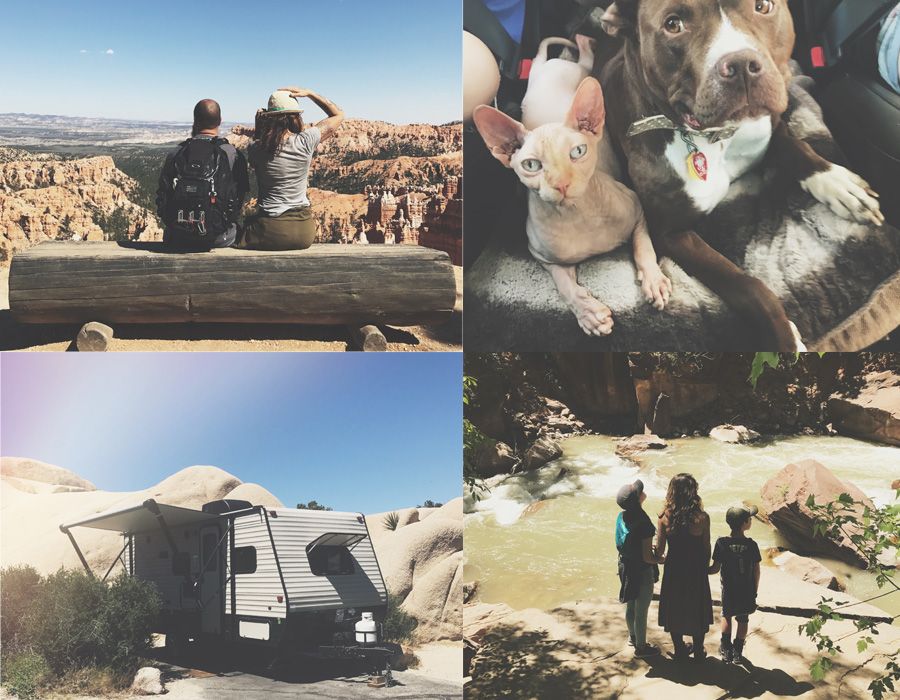 Our family has been living full-time in our camper for several months now. We've been coast to coast to coast and then settled back into stationary living for the summer and early fall. We are unsure of our plans after October, but in the meantime are enjoying our home state. Right now we have a tiny spot on my brother and sister-in-law's property, right by a flowing stream, nestled into a cute neighborhood. I've never lived in a neighborhood, and honestly didn't think it would appeal to me. But I've converted. I get all you neighborhood dwellers now. People wave and shout hello. I can run 3 miles at 12am and not worry at all about being safe. It's just really pleasant and sweet!
We still love our small space. I wasn't sure if it would grow off us, but it has not. It's tiny and darling, and we are probably the weirdest people you know…but we like our unconventional home. I don't think we will live in a camper full-time forever, but it fits our lifestyle goals and that is something we appreciate…even on the rough days of living small.
I've been asked a few questions repeatedly via email, messages, or on social media. So, I figured it would be a good time to do a "best and worst of travel trailer living post" and answer some of those questions in the process. I am surprised by how many people have written us saying "we always wanted to do this" or "we hope to do this someday"… Tiny, adventurous, travel living appeals to a ton of people. Here is how it is working for us in 140 square feet of living space.
WORST
1. We probably could use six more feet of space. Honestly, I'd love another "room". Is it a necessity? No. Would it be appreciated and incredibly useful? Yes! Our entire inside camper length is 17 feet. Pushing out to 23 or even 25 would be all kinds of wonderful. In the meantime, we enjoy what we have and keep it nice so that it has a decent trade-in value for sometime down the road. (*If this camper was used for weekend trips or just occasionally through the year, it would be the absolute perfect size for us!…And honestly, I'll be sad to trade her in someday.)
2. Litter box duty. Enough said. In a tiny bathroom, it.just.sucks.
3. Instant coffee. We tried to convert. I did better than Phil. He said it tastes like s#*t. It probably does. I've developed a high tolerance for bad coffee. We ended up finding an $8 drip coffee maker at Walmart that is so tiny, you barely see it on the counter. So, no more terrible campfire coffee.
4. Dumb camper mistakes. We've made a few. Some, too embarrassing to share. Regardless, mistakes cost you time and money. Luckily, none of ours were the money-sucking kind…but we got close! When you convert to a camper (whether for a weekend or a year), you will do silly things. We've learned to be okay with it, keep learning, and always always double check each other!
5. All our drawers are filled neatly with our folded clothes in sorted stacks. YEAH RIGHT. This is how we put our folded clothes away: we mush them into a tiny drawer while we hold back the clothes that are already squeezed inside and try to shut the door before anything falls out. It isn't pretty or neat, but our ENTIRE WARDROBES for a season at a time are inside an 18" by 10" drawer (Niamh and Philly actually SHARE one drawer). If you find a better way, letmeknow. Otherwise, just keep it quiet and never open our overhead compartments for a looksie.
BEST
1. Time spent in the National Parks. The East Coast has its own beauty, and I love it and would never want to diminish it. But once you hit New Mexico, the landscape changes drastically. Desert is my favorite climate. I love super hot days and dusty places. And we spent most of our time in arid or semi-arid climates, so I was in heaven. Joshua Tree was my favorite, but Zion was probably the most beautiful. We slowed down and took all our excitement and joy from each other and our surroundings— not our phones or computer screens or ipads. We debated whether to return or just ditch society for life in the desert. Sometimes I still think about it.
2. Our pets just happen to love traveling. We initially tried to keep Red in a cat carrier. But he pooped all over it in the first hour (I think it totally stressed him out), so we took turns holding him or letting him rest with the dog. Juno loves to be in the SUV. She just likes a good drive! When we stop to go the bathroom, one of us walks the dog, and Red goes back into the camper for ten minutes to take care of his biz. Then we lock it all back up, everyone piles back into the truck, and we set off again. We got super efficient at the process:). We won in the pet department.
3. Oils. Command Hooks. AA batteries.
~Oils. I bought an inexpensive diffuser and some good oils once we got back to New Jersey for the hot (and humid) summer. I thought it might help the camper smell nice and also help with bedtime (Philly often has bad leg pain at night). Keeping the camper smelling fresh and also infusing our bodies with good things— I don't think there is a better option.
~
Command Hooks
. Not many campers come fresh from the assembly line with really good interior decor. When Phil and I walked through our
Coachman Clipper
the first time, I was basically looking for something I could work with. I wanted light (fake) wood floors and light walls. That is what our camper came with, so I was glad about that. Then we removed the window valence pieces and covered all the cushions (cuz camper fabric is U.G.L.Y.), and hung up all our wall decor with command hooks. They are a life saver. I can't have bare walls, so they've allowed me to get all my decorations up without ruining the delicate camper walls. They helped us make our camper our home!
~AA batteries. I buy mine at BJ's in bulk. It is how we keep little lights on when we are not plugged into a power source. Twinkle lights make my soul happy. And when you are in the middle of no where or a Walmart parking lot overnight, without power, water, or sewer hookups, twinkle lights keep you sane. No lie.
4. Campfire meal: Spicy sausage. EVOO. Onions. Garlic. Corn on the cob. Peppers. Potatoes. Seasonings. Throw it all into foil and put on the fire for 40 min. That's all you need to live your life. You're welcome.
5. Campground downtime. Sometimes Walmart parking lots are the best thing you've ever seen after driving a full day (80% allow the use of their parking lot to sleep in your camper). Other days, the family needs a couple night stay at a campground with a nice swing set, a pool, and a game room. Most of the campgrounds we stayed at were run by kind, generous, friendly people. We also met super helpful neighbors all too willing to share their best adventures and favorite National Park recommendations with us. Camping people might be the nicest people.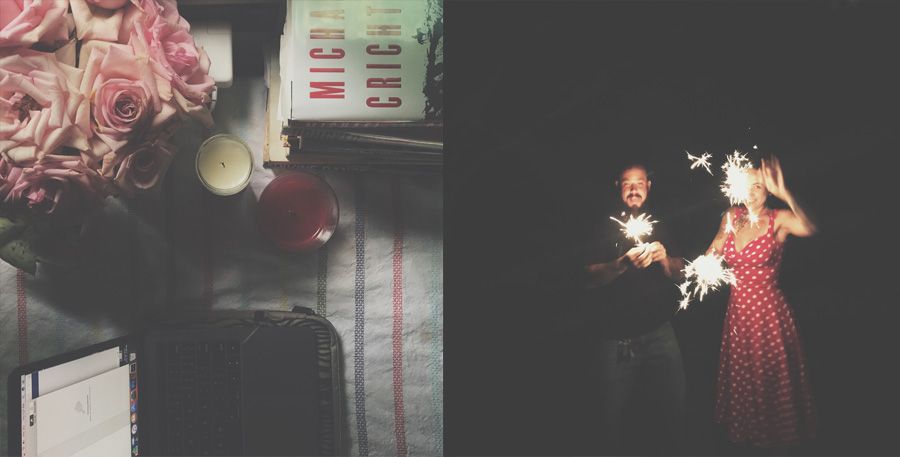 Maybe one of the nicest things is being home, too. We still get the itch to hit the road again, but we are thankful for familiar faces, awesome family who carve out a space on their property to make room for us, and tiny living in our own neck of the woods. We'd like to find a good balance of travel and roots for the rest of our lives…and I think a travel trailer gives us a shot at that.
Feel free to ask any questions I haven't answered below or message me via email. I'm happy to answer! Also, feel free to share your own favorite campgrounds, National Parks, or must-sees. Just remember, we have kids, so appreciate kid-friendly options the most!!
Happy trails!
~K
PS, want to follow my camping Pinterest dreams? Click
HERE
... It is where I shove all the stuff I want to see, remember, or attempt. You can also find us on Instagram
@kristacanary
!