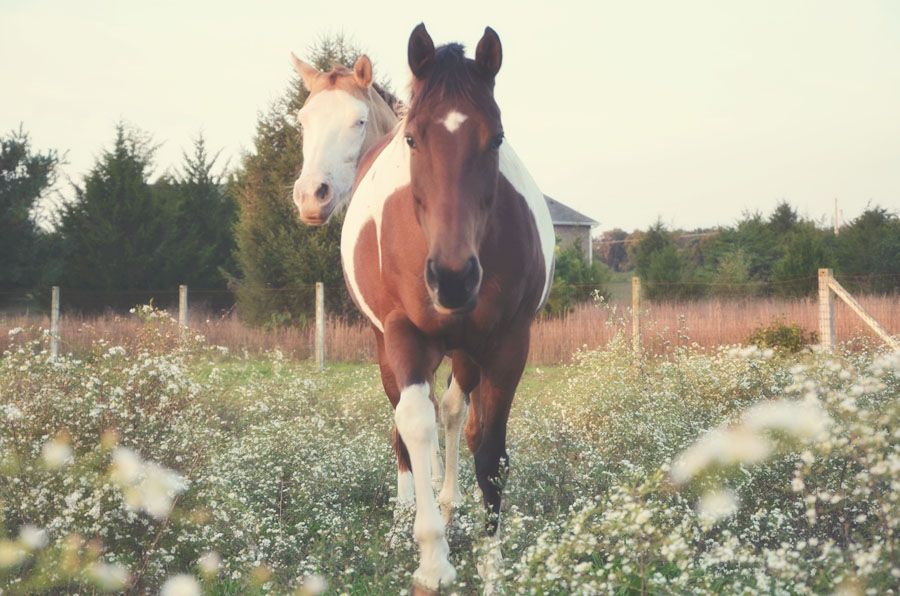 I've never been much of a horse person.

My best friend in high school loved them, rode them, devoted her extra time to caring for them on a nearby farm.

She wore horse sweatshirts, and we listened to Garth Brooks in her car.

I could never wrap my head around owning an animal whose poop weighs as much as a small toddler, but I am probably in the minority as a non-horse-lover.

We live in an area with tons of horses.

They are behind fences and in barns on almost every road we travel here.
On the way home from a sunset run with Phil in the woods the other night, the sky burned orange and pink.

Sometimes sunsets are their own thing.

They are "over there," somewhere

'west'.

They can seem far away, even while being very beautiful.

But the night of our late run, while we drove home, the colors spilled over the horizon into the warm air blowing through rolled down windows.

Everything was pink and gold and glowing, the same farms we drive by every day, turned magical and luminous.
There was a brown horse behind his fence alongside the road after a four-way stop.

As we passed, he danced a little, kicking his front legs and flipping his hair.

His creamy-colored main whirled around in separate strands, and he played for a second like he was a foal again.

In that moment, he may have been the loveliest creature I'd ever seen.

I am not sure if horses can appreciate beautiful sunsets, but he looked free and right—like he couldn't help himself but to enjoy the hazy fall twilight like a horse should.
I needed that seven minute ride home in golden-pink light with a dancing horse more than anything that day.

I caught myself leaning out the window so much that I thought I might look weird if Phil glanced over…I just wanted to breathe all of that beauty in.

Like, deep down into my lungs, where it would have to pass my heart.

It felt quiet and fragile, and maybe I hoped a little of that would seep into my own molecules and fill my spirit with whatever made the horse dance and look wild again.
We are in transition and that can feel unsettling.

It is as if we are stuck in mud and moving terribly fast at the very same time.

My eyes and body are tired, but my brain races at night until the wee hours of the morning.

We have hopes and dreams that are crowded out of focus by the details of real life changing course.

Phil and I have circled back around to the same conversation over and over the last few months—let's make the next best choice, take the next best step.

For someone who is very goal-oriented, like BIG life-goal-oriented, those intermediate steps can feel painfully dull and slow.

I never really do anything slow.

I eat fast.

I run my miles as fast as I can.

Some people say I drive too fast.

Like, cops.

And my mom.

I read fast.

I walk fast (which has actually been a tension in our marriage for quite sometime because Phil is a slow-walker).

I don't even like small talk because it typically goes nowhere.

I like to get things done and move on to the next thing I can get done.

I like making lists and checking off all the boxes.
This season of transition has left me with a lot of unchecked boxes at the end of my day.

It is a season of crawling through life rather than running.

I have learned a lot of good things in the process, but sometimes I have to relearn them again.

And again.

I am learning that much of my self-worth is locked up in 'achieving.'

I am learning that Phil is the type of person who not only operates by—but enjoys—all the small steps in between.

He is not a BIG goal person like me, but a manageable goal person.

I am learning that he is my brake.

My parachute.

My down-shift.

And I'm thankful for that, because I'd crash and burn a lot more without him.

I am learning to be intentional in shaping the person I want to become and the life I want to live.

I have one life and three people to share it with.

I am learning to identify what to pursue, what passions to celebrate in my children, when to pause and when to run, where to place my energy, what to build and what to tear down, what I need and how I often confuse that with things I want.

And I am learning to live in the moment.

And watch horses dance.
This fall I turned a corner.

It is a new direction in that I've left behind a business and blog that I worked for years to build up.

But I really want to live in that sunset place—the magical in-between where I learn exactly what I was made for and who I really am.

I love the freedom in this place—it's where the ordinary looks heavenly because it is pregnant with possibility.

I will still draw, and artwork will show up again in some new way.

But mostly, I will write.

And learn.

And write some more.

It feels weird and undone to invite you into this place- to share the middle of the journey here with me- because the achiever in me wants to wait until I've made it out the other side looking perfectly in control, in charge, and successful.

But we are all in the middle space in some way or another.

There are always thresholds waiting to be crossed.

New places to be explored.

Sometimes the best thing is to know there are other explorers out there in the twilight with you, finding the horses and magic places, too.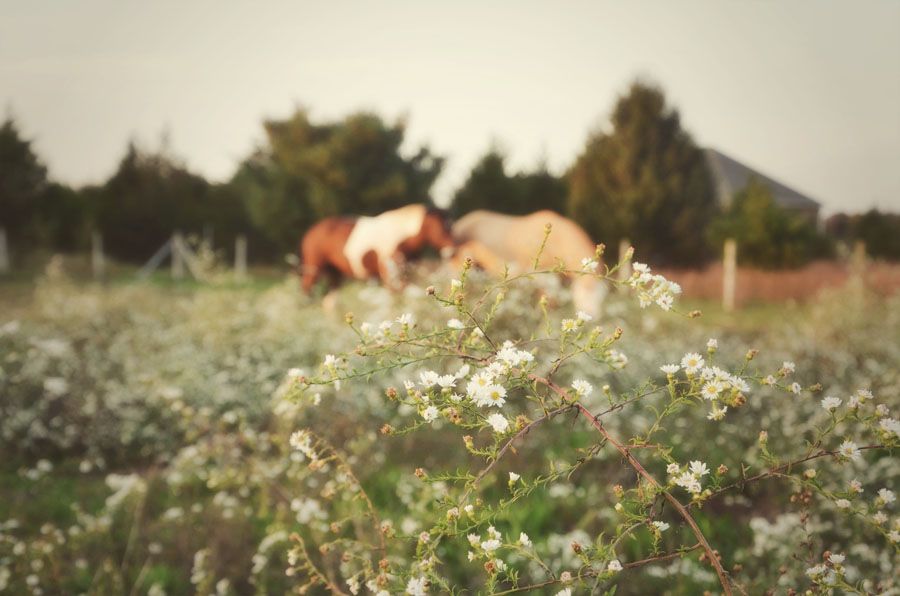 This is my new blog.

Some of the side links are empty and waiting for a history of posts to fill them up.

I am choosing to fill this space with the things we are focusing on in this season of life.

I will share as I link to different places—but for now, you can check out the "About" page to get to know us a little better.
Also.

I might love horses now.

I wanted to take a picture of the horse that I passed that afternoon, so I drove up the long driveway and asked this cute, country, blonde-haired girl to photograph her horses.

She smiled and walked me straight out to them.

They nudged me and tried to eat my hair.

They were basically big cats, lovey and sweet.

And people are super kind.

Seriously.

We talked about her wedding and her recent move, and it wasn't weird at all that we were strangers in a field taking photos.
One of the best things I've read in a very long time goes something like—believe that the Universe is on your side.

I forget to do that sometimes…but

It

is.

Horses whisper to my tired soul.

Strangers make light of a weird request to take photos in their flowery fields.

And beautiful sunsets turn a truck ride home into something memorable on a rather ordinary day.

I think that is a good place to start over—to begin to write again—believing that there is a goodness that permeates each day, different directions, and every new adventure.