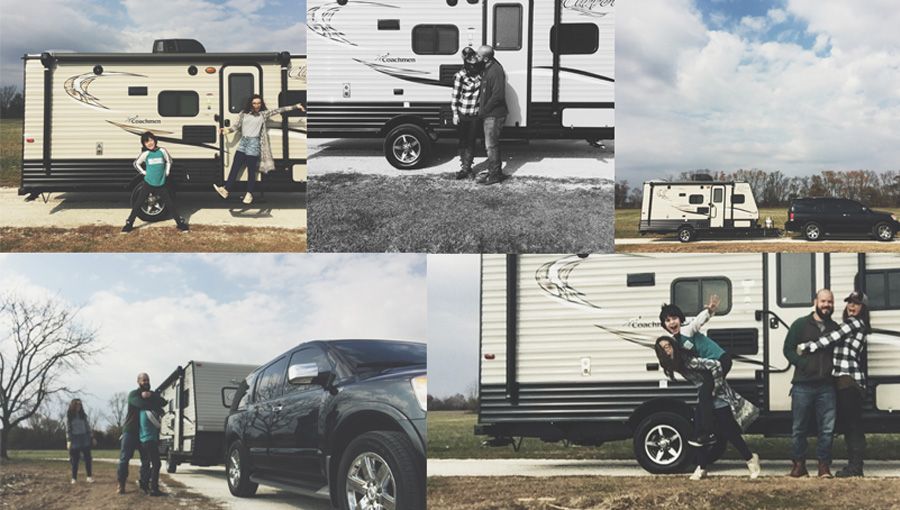 This month we bought an RV to live in.

I know that is weird and maybe even a little crazy, but we did it.

It is a move we've been planning for months but weren't too sure how it would pan out.

Or, even if it would.

But now there is a trailer in our driveway, a hitch on our truck, and a box of luminoodles on its way to our address.

(I refuse to live the camping life without twinkle lights.

It is where I draw the line, folks.)
For almost two years, we've been feeling the need to simplify, choose freedom over expectations, and wholeheartedly pursue living out a good family story together.

It did not start as a dream to live in a 17-foot RV (I really thought we'd be in a 34 foot airstream with new wood floors and little cactus plants in the big, airy windows)—but our path has led exactly here, and it's terrifying and exciting.
There have been moments of panic.

I've woken up a few times in the middle of the night wondering what the hell we are doing because I don't know about bears or wilderness or how to cook tasty things in my oven let alone over an open fire.

I don't know how to "winterize" anything and honestly, the luminoodles are not so we can look cute while we camp—I'm gonna wrap those suckers around my kids so I don't loose them somewhere on a mountainside.
The day we picked up the camper, right before we handed over our money, Phil and I both walked into a corner of the dealership and just breathed.

We kept asking, "Are you okay?" And we both kept answering, "I think so."

At one point, Phil did say, "We could just run."

After laughing and instead of running, we talked everything out—What do we want?

Would we regret not giving this a shot?

Where is God leading us?

So we handed the salesman our money, hopped into our truck, and drove the tiny (guys, it's t.i.n.y.) RV back home.
It has been a huge learning process.

The times we feel nervous about what we don't know, feel afraid of what others might think (you know you think we cray cray—it's ah-ight), or feel overwhelmed by big dreams, we always come back to those three things—simplicity, freedom, and to live a good, adventurous story.
So here is to living with less, wild spaces, quiet work, learning new things, nature, homeschooling on the road, facing fears, 140 square feet of living space, four humans, two cats, and twinkle lights to make the kids into walking glow sticks.

We will be messy at it, but I am thankful for passionate, adventurous hearts to share the experience with.
We will post our trip itinerary sometime after Christmas.

Be sure to let us know if we are in your neighborhood!

And if you are a seasoned RV-owner or camping expert, feel free to share hints, tips, or advice—we will be very grateful!