My name is Krista.

I am married to Phil.

We have two kids—Niamh (pronounced N
Ē
V) and Philly (like the city).
They are homeschool nerds, Starbucks snobs, and probably future tree-huggers.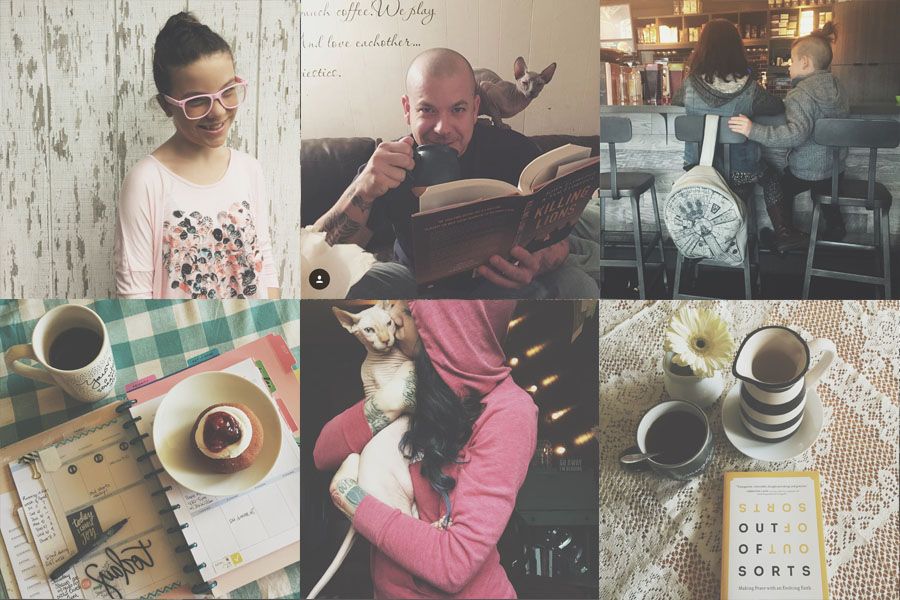 Niamh likes to run long distance.

She reads thick books.

And she wears nerdy glasses.

She calls herself a "fan girl."

I don't know what it means, but I think it has something to do with all her favorite things—Harry Potter, Star Wars, Hunger Games, etc.

She likes to collect little figures and trading cards and pins.

She is just over the threshold of real-life teenager status, so she is quiet and funny and silly and beautiful—and figuring all that out.

She is my favorite girl.

I hope I'm like her when I grow up.

Philly can tell you the batting average of any MLB player.

Ask him.

Go ahead.

He will know.

He loves the Yankees and NY Giants.

He reads, too…usually books about animals or natural disasters (he is a real niche reader).

Every Christmas he asks me for a new pet, usually along the lines of a sloth or gorilla.

He cries at all the good movies.

He goes to midnight book release parties for his sister and sits on bookstore shelves for 3 hours.

And never complains.

He is everything sweet and kindhearted.

I love him to bits.

Phil and I have been married for 15 years.

I like that he slows me down, moves through life at a gentler speed.

He likes to play outside and watch old shows with the kids.

He reads books to us.

And he even changes his voice for the different characters.

He introduced the rest of us to good music (Johnny Cash, The Beatles, Run DMC).

He makes me coffee almost every morning, so he is a keeper for sure.

We spend many late nights talking at the kitchen table or sitting at the fire pit outside, drinking good wine, dreaming and laughing together.

He is kind of my everything.

I like to write, draw, and read.

And I run lots of trail miles through the woods.

I am a true introvert, quiet, and even a little awkward.

But that's okay.

I can laugh at myself, too.

I am a dreamer to a fault.

I love long talks over coffee about theology and the ordinary, nitty-gritty parts of life…and how those things all intersect in messes and beautiful moments.

I am terrible at email and baking.

But I make a good bowl of chili and a mean living room fort.

I am passionate about living in a posture of learning—remaining in conversation with others different than myself.

I love Jesus, and I believe he was inclusive and subversive.

I want my kids to feel freedom and grace in their pursuit of God, digging deeply into faith and allowing space for doubt, questions, traditions, and discovery.

I think Spirit and dust are more mixed than we think—and I aim to live in that mingled place.
We have a naked kitty named Red.

He

reminds me that wrinkles can be cute. And a rescue pitbull named Juno who is afraid of the cat.
Oh yeah, we live in a 17 ft camper. It's super little--but we like each other a lot, so it works:).
Follow our story on IG @kristacanary .